I'm sitting here in front of the Christmas tree reflecting on all that 2015 has brought me. It's been a fast and furious year as Mentoring Mompreneurs and MentoringU grew and then merged into the launching pad for my E-Learning for Entrepreneurs efforts. Starting a business and watching it grow over the first few years is a little like figuring out your major in college. You have an idea when you got there and by the time you graduate you've changed it 9 times, but along the way you found yourself, developed your ideas and came out experienced and educated. I knew when I started on this path that I wanted to support entrepreneurs in launching their dreams and generating an income that helped them affort a lifestyle of their choice. I've supported that with small business services like web design, social media guidance and mentoring sessions, but the common thread always seemed to be a foucs on education. And like a college junior at the moment of officially deciding what path to take, I've spent the last quarter of 2015 redefining what MentoringU has to offer.
 I've never been a patient person, and I just couldn't wait two more weeks to share an exciting new addition to MentoringU! I had planned to kick off 2016 with the announcement, but I just can't wait!!!

The MentoringU Skills Lab is officially launched and ready for you to dive in!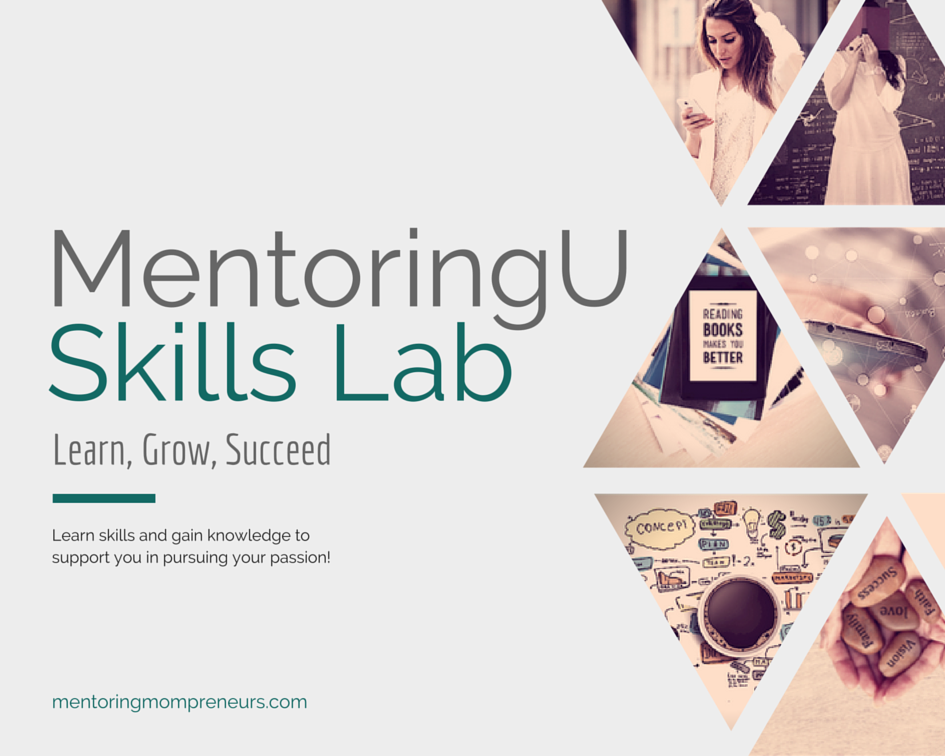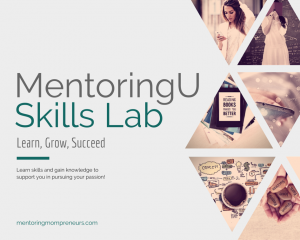 For the last several years I've built trainings, tutorials, and given advice and resources to help small businesses grow and succeed. I've created the MentoringU Skills Lab to give you instant access to all that content in one convenient place. I'll be adding new tutorials and trainings each week, so you will always have access to fresh new content and information.  
The Skills Lab has instant access to so many great resources. You can find my e-book on Lead Generation and sign up to be notified when my Productivity for Procrastinators is released in January! You can also view the full library of my tutorial videos, everything from short 2 minute 'how-to' videos to full length, hour long webinars on topics like social media strategies and website design. There is also a resources page with links to my personal list of tools and vendors that I use everyday in my business. These are the very best and most affordable tools and sites and are perfect for startups where cash flow can be tricky.  
I've also included links to my in-depth courses which are hosted on Udemy.com. By accessing the course through the Skills Lab you can register with a 50% discount code automatically applied! MentoringU Skills Lab Members will always get VIP deep discounts (50% or more) for all of my Udemy Courses. These are detailed courses that dive in and walk you step by step through topics like 'Branding and Website Design for Entrepreneurs', 'Productivity for Procrastinators' and more and are generally 2-6 hours worth of content!
Head on over to the Skills Lab and try it out! Don't forget to check back the first week of January for new trainings to help you start the year off right!
Cheers!
Traci
P.S. If you haven't signed up for newsletter updates and notices don't delay! You'll be the first to know about new content in the Skills Lab, new discounts for my Udemy courses and my e-book releases…not to mention the jampacked webinar schedule we have planned for 2016! Sign up at the top of the website and we'll keep you in the loop!